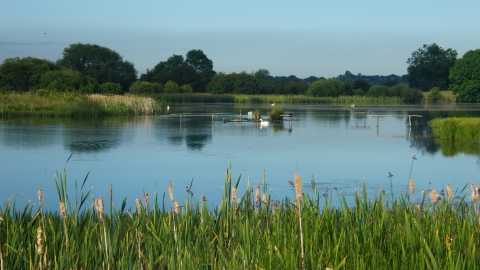 Footpath diversion: The Public Right Of Way (PROW), which accesses Staveley Nature Reserve near the Royal Oak pub, has been reverted by North Yorkshire County Council (NYCC) to the official mapped route, as opposed to the walked line. This PROW pre-dates the creation of the Nature Reserve by several decades and its re-alignment is entirely a matter between NYCC and the landowners whose land the route crossed. The presence of the nature reserve is not related to the re-alignment issue.
This superb wetland site lying close to the River Tutt holds year round interest for visitors with regular sightings of otters and several orchid species among the highlights.
Know before you go
Entry fee
Free
Parking information
A YWT car park is just outside of Staveley village on the Minskip Road and holds 12 cars. PLEASE park considerately and safely. There is disabled parking off Main Street, up the track by the village church. This can be accessed with a radar key.
Grazing animals
Hebridean sheep graze the land in the spring.
Walking trails
There is a large network of surfaced and unsurfaced public and permissive footpaths. Public footpaths cross the site from Staveley Main Street next to the pub and from the Minskip road.
Access
Good accessibility for wheelchair users and pushchairs. Disabled access is via radar key from the track next to the church on Main Street. 
If you park in the car park or elsewhere, please do so considerately and safely and with respect to local residents and other road users. 
When to visit
Opening times
Open at all times
Best time to visit
June to September
About

Staveley Nature Reserve, part of a larger area known as Staveley Carrs, has been renowned for rare plants for centuries. Today, this large, accessible site has been sculpted through quarrying activities followed by decades of work by Yorkshire Wildlife Trust and dedicated volunteers.

The site is in two parts: the East Lagoon edged with vegetation that was allowed to develop naturally post quarrying, comprising fen, reed swamp, scrub and flower-rich grassland; and the West Lagoons, which was landscaped and returned to agricultural usage after quarrying, with arable and intensively grazed areas. This part of the site has seen much activity to create more interesting wildlife habitats, since the Trust's purchase of the land in 2010. 

An 11 hectare hay meadow has been created on a former arable field, islands, nesting platforms and a sand martin wall have been built around the lake, and ponds and scrapes put in to increase the area of wetland habitat. The nature reserve is bordered by the River Tutt on its northern boundary and there are footpaths and hides from which to observe the varied wildlife.

Small areas of fen are home to several relic species which were once widespread before the carrs were drained and transformed into farmland. Locally scarce species such as water violet, marsh helleborine and meadow rue can be found.

Common breeding birds include summer visitors such as sand martin and several species of warbler, with common tern breeding on the rafts put out for them and barn owls in nest boxes. Wading birds such as little ringed plover and oystercatcher sometimes breed on the exposed bare ground and islands of West Lagoon. Red kites and buzzards are regular visitors. There have been 22 species of damselflies and dragonflies recorded in the main lagoons, small ponds and ditches. 

Mammals are well represented with roe deer and fox amongst the larger species and water shrew and harvest mouse amongst the smaller species. Otters are seen regularly, quite often in the middle of the day on both lagoons.

Management of the nature reserve is designed to maintain the site's diverse habitats with rotational reedbed management, scrub clearance and coppicing, cutting and raking of grassland, traditional haymaking and grazing with the Trust's Highland and white park cattle, and Hebridean sheep, amongst other activities.

Staveley is also home to a community orchard. To find out more about this project visit the website here.
Seasonal highlights

Spring: Inverterbrates - Orange-tip; Large red damsefly; Birds - Commen tern; Sand martin Mammals - Otter
Summer: Plants - Marsh helleborine; Common spotted orchid; Bee orchid; Invertebrates - Peacock butterfly; Birds - Barl owl
Autumn: Birds - Teal; Shoveler; Greenshank; Inverterbrates - Migrant Hawker
Winter: Birds - Red kite; Tufted duck; Reed bunting; Tree sparrow
Directions

Public transport
Bus routes pass through Staveley village.

By car
On the northern outskirts of Staveley, 2.5 miles south west of Boroughbridge. Car park just out of the village on the Minskip road and also disabled access via radar key from the track next to the church on Main Street. Public footpaths cross the site from Staveley Main Street next to the pub and from the Minskip road.
Nearby