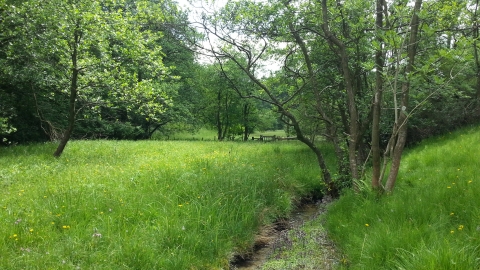 One of the finest ancient woodlands in Yorkshire, which is bordered by flower-rich limestone grassland on the valley sides and a marshy valley bottom through which a crystal-clear stream flows. The habitats within the nature reserve are heavily influenced by the underlying geology of the site.
Know before you go
Entry fee
Free
Parking information
Limited roadside parking available.
Bicycle parking
Bikes allowed on bridleway only.
Walking trails
Permissive footpaths.
Access
Access to the nature reserve is via a small gate. The site can be very wet in places, even during the summer, so wellies are advised.
Dogs
No dogs permitted
Dogs are allowed on the public right of way on leads.
When to visit
Opening times
Open at all times
Best time to visit
May to September
About

The habitats within the nature reserve are heavily influenced by the underlying geology of the site. Glacial melt water carved out the steep sided valley, cutting through different rock layers. The valley forms part of a system of small steep sided valleys in this area with tributaries of the River Rye running through them. The very thin soils on the upper slopes of the valley support areas of unimproved limestone grassland and woodland with a very high diversity of specialised plant species. The middle and lower slopes of the valley are also wooded and contain a range of bird species including nuthatch, treecreeper and wood warbler.

In the valley bottom there are areas of neutral grassland, mire and carr woodland. Where the calcium rich springs that flow through the site reach the valley bottom extensive areas of marsh exist, with many rare plant and insect species associated. These include bird's-eye primrose, globe flower, marsh hawk's beard and grass of Parnassus. Black bog-rush occurs in two of the larger areas of springs, and common butterwort and marsh lousewort (or red rattle) are widespread.

Red, fallow and roe deer are present in the area and an early morning visit could be rewarded with a sighting of them grazing the grassland along the steeply wooded valley sides. Freshwater shrimps and white-clawed crayfish are found in the stream that runs through the site.
Seasonal highlights

Spring: Plants - Wood anemone; Invertebrates - Orange-tip butterfly; Birds - Blackcap; Chiffchaff
Summer: Plants - Globeflower; Marsh helleborine; Bird's-eye primrose; Chimney sweeper; Crustaceans - White-clawed crayfish
Autumn: Mammals - Fallow deer; Red deer
Winter: Birds - Great-spotted woodpecker; Marsh tit; Nuthatch
Directions

Public transport
A bus service runs to nearby Helmsley from Scarborough, Malton and York. In the summer months Moorsbus run a service between Helmsley and Rievaulx.

By car
½ mile west of Rievaulx and about 3 miles north west of Helmsley. If approaching from Helmsley, take the B1257 Stokesley road for approximately 1½ miles and take a left hand turning onto Scawton road. Descend through the woods, turn left across the river Rye and turn right towards Old Byland after a further ¼ mile. Very limited road side parking, access to the nature reserve is via a small gate.
Nearby