All you need to know as a volunteer
We've collected all the information you need as a valued volunteer for Yorkshire Wildlife Trust on this page. You can also find our latest volunteer news and updates, and make sure you're subscribed to volunteer emails.
Volunteer handbook
All our volunteers will be sent a handbook when they register, but you can also download the handbook below. The handbook provides key information about volunteering with Yorkshire Wildlife Trust and what you can expect.
Coronavirus (Covid-19)
We have been working really hard alongside all our volunteer managers and the wider Yorkshire Wildlife Trust team to start the gradual process of returning our volunteering activities. You should have received an update and timetable from the Volunteering Support Team outlining the next few months. Once your volunteer manager has everything in place to safely welcome you back they will contact you to discuss your return.

If you have any questions please do not hesitate to contact your volunteer manager or the Volunteering Support Team, you can email us at volunteering@ywt.org.uk and will do our very best to respond to you as quickly as possible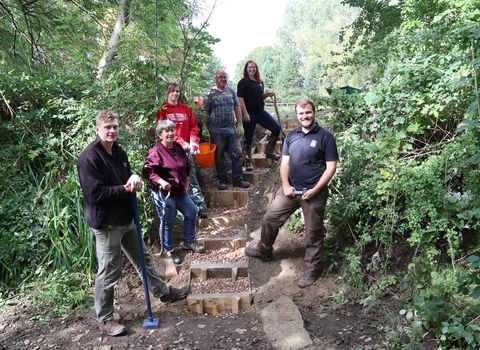 Practical conservation calendar
Practical conservation task days during Covid-19
We have had to make a few changes to how we run our practical conservation task days during Covid-19. At this present time, during the national lockdown we are only carrying out a limited amount of essential reserve management tasks. Our reserve officers will contact any existing volunteers directly about any tasks they could help with at this time.
As soon as we can open practical conservation task days to all volunteers, we will update this section with details.
You can view our last Practical Conservation Calendar, which will provide examples of the tasks we have when we are able to operate group practical conservation task days safely again.
View the calendar
Volunteer training programme
We have an extensive volunteer training programme that is open to all our active and registered volunteers and voluntary trainees. The training programme reflects the diversity of volunteer roles we have at Yorkshire Wildlife Trust and offers courses that will fulfil the training requirements you may need for certain roles, or to perhaps develop your skills further.  
The courses are free for our active and registered volunteers with the exception of First Aid and Outdoor Incident Management Courses, these courses are only available for volunteers or voluntary trainees that require the training for their role and where the cost of the course has been agreed with your volunteer manager.
The training courses can only be booked by active and registered volunteers. If you send us a booking enquiry please can you tell us your volunteer role, where you volunteer and who your volunteer manager is.
Please be aware that the courses listed are subject to change due to the covid- 19 pandemic. We will try to re-arrange any changes but this may not always to possible.
Volunteer training programme
Latest volunteer news and information