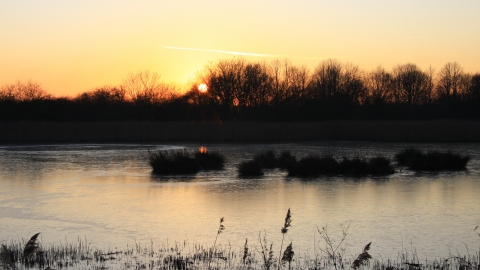 Book your visit to Potteric Carr nature reserve
Location:
Mallard Way (nr junction 3 M18, south edge of Doncaster)
,
Doncaster,
South Yorkshire,
DN4 8DB
Book
During the national lockdown (5th November – 2nd December 2020) Potteric Carr nature reserve will remain open for Wildlife Trust members and residents of Doncaster Metropolitan Borough Council.
Event details
About the event
With its accessible pathways winding between woodlands and wetlands, Potteric Carr is a wildlife oasis three miles from Doncaster town centre.
We know the importance of having access to nature for our health and wellbeing. To help local communities, we're offering complimentary access to Doncaster Metropolitan Borough Council area residents during the national lockdown.
Whilst there is currently no charge for visiting the reserve, pre-booking for non-members is required. Please choose a date and a time slot and bring all of the following with you on the day of your visit:
A digital or paper confirmation of your booking
A digital or paper document featuring your Doncaster Metropolitan Borough Council address, such as a utility bill.
A face covering for accessing the reserve, toilets or take-away cafe through our visitor centre.
If you are a member, you do not have to book, but please bring your membership card and a face covering when you visit.
To help to support the national effort to bring Covid-19 under control, we are urging all of our supporters to please follow Government travel advice and stay local to where you live. Please only visit with members of your household and support bubble, or if you are on your own, with one person from another household.
Facilities
The car park, toilets and takeaway café will be open during your visit. Please note that there will be no outdoor café seating but you are very welcome to bring a picnic blanket! Further information about Potteric Carr nature reserve and the Covid-19 secure measures we have put in place can be found on our website.
Dogs
To help protect the wildlife, please also be aware that no dogs or bicycles are allowed on the reserve.
Give back to nature
Nature has given us all so much this year and we're so grateful for the continued support of our members and visitors, who help us to give something back. Although we are not charging for entry to Potteric Carr during the lockdown, you can donate the cost of your ticket as you book (£4.50 for adults, £3 for children).
Especially during this period of social isolation, your support helps us to inspire even more people to discover the benefits that nature has to offer us all. Become a member of Yorkshire Wildlife Trust to help us to save wildlife in Yorkshire and restore our iconic wild places.
We hope you have a really wild visit!
We've answered some of our frequently asked questions below - if you have any questions, please browse through!
Booking
Price
Free (donations welcome)
Suitable for
Families, Children, Adults
Know before you go
Bicycle parking
No bikes on the reserve but bike racks available
Frequently asked questions
How do I become a Wildlife Trust member?
My partner/bubble companion isn't a member – can they still come?

If they are a resident of the Doncaster Metropolitan Borough Council area they can. If not, we are asking people not to travel. Why not buy them the gift of membership this Christmas?
Is it wheelchair accessible?

There are routes available around the reserve which are wheelchair and pushchair friendly.
What will be open?

Our car park, toilets, wildlife watching hides and takeaway café will be open, but no outdoor seating.

Our shop will be closed but you can a fantastic selection of wildlife friendly products are still available to by on our online shop.
Is it suitable for families?

Yes. There is a choice of routes that take you around the reserve – including shorter routes for little legs!

Our story trail is a fantastic family activity and there's wooden animal sculptures along the pathways too. 
It's bad weather, can I change my slot?
Do I only have a limited amount of time at the reserve?

You can stay as long as you like during your morning of afternoon slot. You can arrive anytime during your slot but the earlier you arrive, the more time you will have! 
Why do I need to pre-book?

If you are a member, you do not need to pre-book.

To offer a safe environment for our visitors during the national lockdown, we are carefully managing the number of people that can access the reserve at anyone time. In following Government guidance, we also want to focus on access to the reserve for local residents and members.
I can't come any more – what shall I do?
I am a member and I live outside of the Doncaster Metropolitan Borough Council area, can I still visit?

Yes, you can. We are not imposing locality restrictions on visiting members, but we encourage everyone to visit safely in accordance with the latest government travel advice.