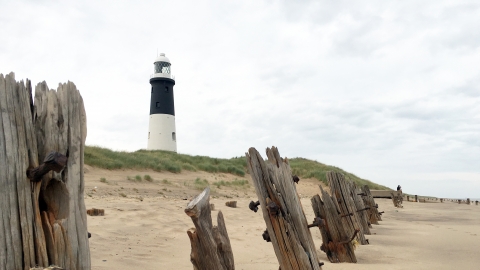 Sound installation at Spurn lighthouse from local artist Sarah Dew
Location:
Spurn National Nature Reserve,
Spurn National Nature Reserve,
East Yorkshire,
HU12 0UH
Lose yourself in the sounds of the coast, woodland, forest, rivers and moorland within our immersive sound installation at Spurn lighthouse this August.
About the event
Local artist Sarah Dew has composed an immersive sound installation, rooted in the landscapes, seas and skies of the North Sea. Musings grow into blends of sound, melody and narrative, created to take you on a journey into the realm of the extraordinary. She hopes that hearing sounds of nature within the works will inspire in listeners a desire to protect natural and fragile environments.
The installation will be launched on 1 August in the lighthouse and is open to the public when the lighthouse is open. You can reach the lighthouse on foot (around an hour's walk from Spurn Discovery Centre), or book a place on a Spurn Safari and you'll visit the lighthouse as part of your tour.
Know before you go
Parking information
£5 parking charge applies. FREE parking for Wildlife Trust members who display their up-to-date membership card on their car dashboard.
Facilities
Electric car charging point
About the artist
Based in North Yorkshire, living alongside the North Sea, Sarah Dew is a songwriter, composer, poet, field recordist, sound artist, music teacher and music director. She gained a Masters in Music at Hull Universityin 2018, focussing on acousmatic composition.
Prior to Sarah's installation in the lighthouse at Spurn Point, notable recent performances of her acousmatic works include: Bowhead Exhibition at Hull Maritime Museum; Sound+Environment 2017 Conference at Hull University; HEARO (Hull Electroacoustic Resonance Orchestra) at Hull University; NAISA2018 (New Adventures In Sound Art) Deep Wireless festival in Ontario, Canada; Composer/Computer/Distance Conference in Sheffield; Noisefloor Festival 2018 at Staffordshire University; Sound Thought 2018 in Glasgow; "From Moor to Highland" was record of the week on BBC Radio York on the BBC Introducing Programme (27.10.18 and 03.11.18); BFE/RMAConference2019, hosted by the Department of music at Sheffield University;Coastival Festival of Arts in Scarborough, North Yorkshire (2019) presented a sound installation of Sarah's works at the Rotunda Museum, Scarborough.
A sneak preview