An exclusive birding experience across Kilnsea Wetlands and Spurn peninsula
Taking place under the big skies and ever-changing landscape of Spurn, explore and discover the diverse wildlife that call this breathtaking place home with our Bespoke Birding tours.
Join our birding expert Adam on an exclusive tour of Spurn National Nature Reserve and nearby Kilnsea Wetlands in our 4x4.
Our Bespoke Birding tours are the perfect introduction to birding.  There's no expert knowledge required - we tailor each tour to your interests and level of knowledge.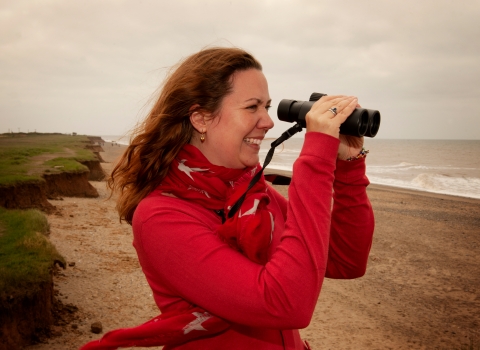 Features of the tour
- Friendly welcome and drinks on arrival at the Discovery Centre
- Fabulous lunch in the Discovery Centre café with fantastic views of the Humber and Spurn
- 4x4 vehicle transport to take you on your fully guided wildlife tour of Kilnsea Wetlands and Spurn
- Visit to Spurn Lighthouse with fantastic views of the Humber and North Sea
- Free use of binoculars and 15% off any Opticron optic purchases at Spurn Discovery Centre
Prices and group sizes
Our Bespoke Birding tours are £75 per person for a full-day experience, including hot drinks and lunch.
We have a maximum group size of four people to allow us to tailor the experience to your needs and interests.
If you have any questions, please don't hesitate to give us a ring on 01964 650144.
Book your experience
Browse our available dates and book your Bespoke Birding tour today.