An exclusive birding experience across Kilnsea Wetlands and Spurn peninsula with an expert guide
To keep our visitors and staff safe during the pandemic, we have made some changes to the tour - please see details below.
Taking place under the big skies and ever-changing landscape of Spurn, explore and discover the diverse wildlife that call this breath-taking place home with our Bespoke Birding tours. Join our birding expert Adam on an exclusive tour of Spurn National Nature Reserve and nearby Kilnsea Wetlands on foot and aboard our Spurn Safari vehicle (an ex-army Unimog).
Our Bespoke Birding tours are the perfect introduction to birding – especially as we enter the migration season. No expert knowledge required!
Our tours are limited to six people per tour to allow us to tailor the experience to your needs and interests.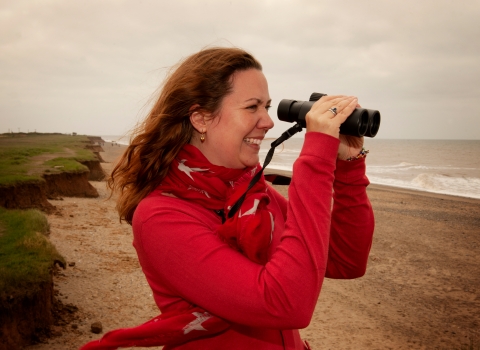 Features of the tour
- Friendly welcome and drinks on arrival at the Discovery Centre
- Fabulous lunch in the Discovery Centre café with fantastic views of the Humber and Spurn
- Fully guided wildlife walk around Kilnsea Wetlands and Spurn National Nature Reserve
- Visit to Spurn Lighthouse with fantastic views of the Humber and North Sea
- Return trip aboard the Spurn Safari vehicle to the tip of Spurn Point 
- Free use of binoculars and 15% off any Opticron optic purchases through Yorkshire Wildlife Trust
Prices and group sizes
Our Bespoke Birding tours are £75 per person for a full-day experience, including hot drinks and lunch. Please let us know any dietary requirements in advance via our booking form.
We have a maximum group size of six people to allow us to tailor the experience to your needs and interests.
If you have any questions, please don't hesitate to give us a ring on 01964 650144.
Covid-19 safety
Booking
Please book in advance using our online booking system.
Social distancing
Depending on the size of your group, other people may join you on your tour (maximum of six people per tour). Please stay in your own social bubble at all times and consider other guests by remaining 1 metre+ apart. The seats on the Spurn Safari vehicle are numbered and we will allocate you your own seat for the duration of the tour.
Hygiene
Enhanced cleaning is in place and the tour vehicle is cleaned before each trip. Hand gel is available to use on entry and exit from the vehicle. Guests are asked to remain in their seats at all times while the vehicle is moving. 
Face coverings
All guests over 11 years of age must wear a face covering (unless medically exempt), while on the Spurn Safari vehicle or in the lighthouse. 
If you have symptoms
If you, or members of your party, present any Covid-19 symptoms please do not visit the reserve or participate in the tour. Please contact us to reschedule. 
Overview of the tour
The day will consist of a fully guided tour with an expert guide, who will be with you for the entire day giving advice and local knowledge on birds and the surrounding environment.
We want to provide all our visitors with the basic knowledge and understanding of how to birdwatch. There are no silly questions and it is a safe, friendly environment to be able to ask the guide anything. The group is limited in numbers to ensure the guide can provide expertise and assistance to all tour attendees. We want the tours to be bespoke and individually focussed so that our guests get the absolute most out of the day!
Morning

When you arrive you'll be welcomed with tea, coffee or another soft drink, and your guide will introduce themselves and the overview for the day. You'll have the option to borrow some binoculars!

Shortly after 09:30 you'll head on a walk north to Kilnsea Wetlands (taking approximately one hour). En route you'll see some of the great habitat and have a chance to experience some of the bush birds that could have made the long trip across the North Sea at this time of year, including some potential rarities!

Once at Kilnsea Wetlands you'll have the opportunity to see some of the fantastic wetland species that the area has to offer. After a 30-40 minute stop at Kilnsea Wetlands, you'll continue your walk through the village of Kilnsea and back to the Spurn Discovery Centre for lunch (12.00 - 13.00) with fantastic views over the Humber from the café windows.
Afternoon

After lunch the tour will continue, with a five-minute walk to the Unimog vehicle, which will transport you down the peninsula to the very tip of Spurn Point, stopping at key locations to check for species along the way!

At Spurn Point we'll guide you in and around the vegetation, searching the bushes for different bird species. We'll share out top techniques and tips on just how to get the most out of a walk in nature and to fully appreciate what's around you! 

After the walk there will be a chance to visit Spurn Lighthouse. This will be a guided tour all the way to the top of the lighthouse, where you truly get a bird's eye view and understand what makes Spurn such a special, internationally renowned place for birding.

The Unimog will pick you up and transport you back to the Spurn Discovery Centre for a 17:00 finish.
Book your experience
Browse our available dates and book your Bespoke Birding tour today. If no events are appearing below, they may be fully booked or not running at the moment due to the coronavirus pandemic.