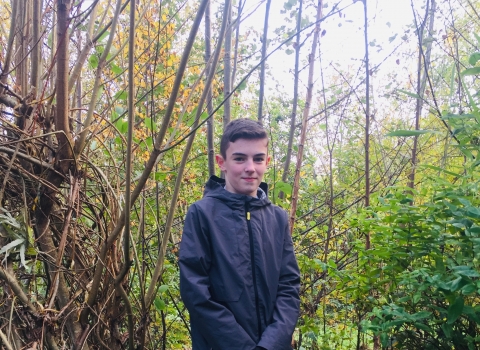 My wild Escape
Noah discovered our nature sessions with the Bradford Urban Discovery Project by accident. He talks about how much it's helped him to escape.
What does nature mean to you?
It makes me feel calm – nobody is running or messing around and that's calming. I love just hearing the animals and the trees. I lost one of my family members this year and the sessions (with the Bradford Urban Discovery Project) help me to be distracted and forget about it for a bit. I've felt a lot better since. I've also made quite a few friends, friends I didn't even know were out there. Everyone one is helpful and nice, so if you needed some help getting something, there's somebody there to ask.
Do you think nature is important?
Yes, especially in the world we live in now. Technology is so big right now, and plastics are just being chucked everywhere. We've got to start thinking about other people - we can't just think about ourselves. I encourage all of my friends to come outside if they're feeling down and to collect litter and recycle it. It makes you feel better.
It makes me feel calm – nobody is running or messing around and that's calming.
Favourite wildlife?
My favourite animal is a fox. I've seen a few foxes which have been abused so I've been there to help them.
What's your vision for the future?
I would like to see more people coming outside. There's more and more people now and we're knocking down habitats and making it harder for wildlife. I think we should have more people out there helping, planting trees and picking up litter. It should be taught in schools as part of the curriculum. One day every few months you go somewhere outside in nature and you do some planting and you learn about wildlife. When I'm older, I would like to be a police officer or a photographer. I've been doing some photography when I've been taking the dog for a walk.
Give a gift to wildlife this Christmas
Help us protect our nature reserves