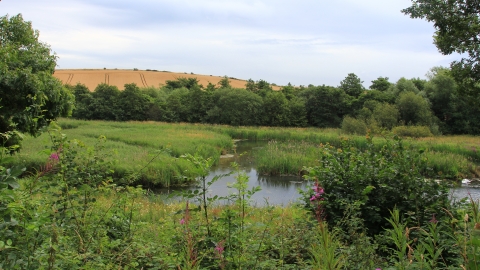 Carlton Marsh Nature Reserve
A wetland nature lover's delight and a core wildlife site of the Dearne Valley, Carlton Marsh hugs the Cudworth Dyke and is best viewed from the footpath on the old railway line running the length of the site.
Location
Know before you go
Entry fee
Free
Parking information
Free parking open dawn until dusk
Grazing animals
Fenced off areas are grazed by horses for part of the year.
Walking trails
A good network of footpaths linked to other Barnsley Dearne sites.
Access
Good footpaths. These are accessed via steps or steep slopes.
Dogs
On a lead
Dogs are allowed on the public footpaths on leads.
When to visit
Opening times
Open at all times
Best time to visit
Good all year round site
About

A glorious mix of reedbed, fen, scrapes, marsh, meadows and wet-woodland makes Carlton Marsh is a great place to relax and enjoy some birding. There are well over 110 species of bird recorded annually at Carlton Marsh.

Secretive water rails can sometimes be seen, along with more noticeable grey herons and little egrets, whilst equally-shy bitterns feed in the reedbed channels. Grasshopper warblers can be heard reeling from the brambles along the river in late spring and summer. Lapwings, redshanks and green sandpipers can be found on the open grassland and wader scrape at the southern end.

Cudworth Dyke winds around the site and creates a wet-woodland fringe which together with the delightful scrub makes this a core refuge for the nationally endangered willow tit with several territories on site.

Carlton Marsh has an abundance of wildflowers throughout the seasons, including field scabious, devil's-bit scabious, weld, yellow archangel, ox-eye daisy to name but a few.

The marsh is also great for butterflies with small skipper, purple hairstreak and small heath amongst the species recorded.

The majority of the habitat management and recording is carried out in partnership with the vital Friends of Carlton Marsh volunteers. Self-set willows always require removing from the marsh to keep its open aspect so attractive to
wetland birds and invertebrates.

Yorkshire wildlife Trust manages the park in partnership with Barnsley Council for the benefit of local people and wildlife.
Seasonal highlights

Spring: Plants - Bird's foot trefoil; Birds - Reed warbler; Blackcap; Willow warbler; Redshank; Lapwing; Cuckoo; Ragged robin
Summer: Plants - Ox-eye daisy; Field scabious; Purple loosestrife; Birds - Little egret; Green sanpiper; Kingfisher; Swallow; House martin
Autumn: Birds - Shoveler; Tufted duck; Teal; Gadwall; Reed bunting; Willow tit; Goldfinch; Bullfinch
Winter: Birds - Bittern; Water rail; Buzzard; Great spotted woodpecker; Fieldfare; Redwing
History

Carlton Marsh benefitted from major habitat improvements in 2015. It is now incredible to think that Cudworth Dike, that feeds the Marsh, recently had the infamy of being classified as one of the most polluted water bodies in South Yorkshire. A major scheme involving Barnsley Council and the combined Dearne Valley Green Heart Partnership has successfully restored the ecology and hydrology. The dry reedbed was rejuvenated by excavating channels and pools making it a magnet for wildfowl and the occasional bittern and little egret.
Directions

Public transport
Buses from Barnsley Interchange to Royston or the Barnsley to Wakefield route. The bus stops at the top of Shaw lane and the nature reserve is a  ½ mile walk away on the right hand side.

By car
From Barnsley town centre, follow the A628 Pontefract Road towards Cudworth. At Cudworth take the third exit, the Cudworth bypass. Follow this for one mile and at the next roundabout take the first exit, Wheatshaw lane. Carlton Marsh is 3⁄4 mile down on the left.
Nearby