A night-time visitor that gardeners adore!
Voted Britain's favourite mammal, hedgehogs are little spiky creatures that capture our hearts and our imaginations. They're noisy eaters, parents to baby 'hoglets' and have up to 7,000 spines all over their body!
As our only spiny animal, most of us would immediately recognise a hedgehog... but when did you last see one? Once a regular visit to gardens, the hedgehog is slipping from our memories as hedgerows disappear and gardens become more manicured.
Shockingly, around a third of the British hedgehog population has been lost since the millennium, marking them as a species of highest conservation concern.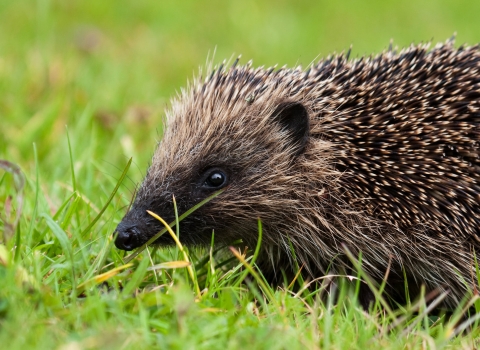 We're saving hedgehogs all over Yorkshire
Our teams inspire thousands every year, from our tiny forest tots to experienced naturalists. By connecting people with their local wildlife we also help its recovery. We empower the people of Yorkshire to help their local wildlife, such as hedgehogs, in their gardens, local green spaces and within their communities.
These wildlife corridors connect with our own nature reserves to form a network where wildlife truly can recover. Finally, we help policy makers understand the solutions that wildlife desperately needs to recover all across Yorkshire.
But their future is far from certain
Since 2000, around a third of urban hedgehogs and a devastating half of rural hedgehogs have been lost.
In the last 70 years agriculture has intensified leading to fewer hedgerows, and the use of pesticides has soared which has had a devastating effect on insect numbers, the main food-source for wildlife like hedghogs.
In gardens, hedgehogs fair better, but their suburban refuges are becoming less and less accessible. Roads, impenetrable metal fences and walls create barriers between vital networks of food and shelter while a lack of scruffy woodpiles and an increase in the use of slug pellets means our urban hogs face the same challenges as their rural neighbours.
Hedgehogs are in peril and need our help; we must take action now.
We can only continue to help Yorkshire's wildlife recover with public support. Donations to the Wildlife Recovery Fund will inspire the next generation to protect hedgehogs while we make up for lost time in 2020
You can make a difference
Hedgehogs are surprisingly fast, travelling up to 2km every night for their midnight snacks. They need plentiful food and a connected landscape to travel through on their night time forays. They thrive in communities with gardens that are accessible and welcoming; with holes cut in fences, log piles for daytime shelter and lots of scrummy insects and worms to snuffle up.
We need a Yorkshire which makes room for hedgehogs. Landscapes which create and join up more wild places where hedgehogs can still find food and shelter, as well as people who understand the important role they can play in helping numbers of our spiky friend recover.