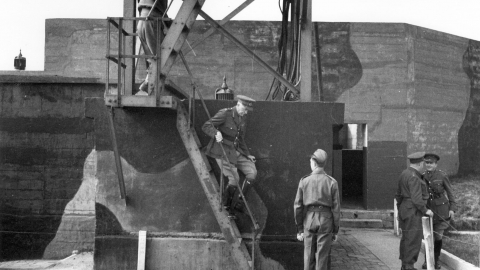 Spurn Military Safari (25 July)
Location:
Spurn National Nature Reserve,
Spurn National Nature Reserve,
East Yorkshire,
HU12 0UH
Book
Join this Spurn Military Safari to visit the hidden military treasures of Spurn. Please note that in line with Covid-19 measures, our tunnels and bunkers are fully open to explore. Please note that due to the extended number of military installations now accessible there will not be time to visit the lighthouse during the Spurn Military Safari.
Event details
About the event
To keep our visitors and staff safe during the pandemic, we have made some changes to the tour and seating arrangements - please see details below. Spurn Safaris are suitable for ages 4+ as children need to be able to sit independently and hold-on when travelling on the Unimog.
Booking
Price
£22 (Adult) £10 (Child)
Additional booking information
Booking: Please book in advance using our online booking system. In line with GDPR, personal data will be held to support Track and Trace procedures only. We can seat up to 10 people, in a combination of group bubbles and individuals, in the Unimog vehicle. On arrival at the car park across the road from Spurn Discovery Centre, please give yourself plenty of time to walk along the road to the gate, where the Unimog is parked (approx. 300 metres, left out of the main car park). Please arrive at the Unimog 15 minutes before the tour is scheduled to leave. The tour leader will meet you at the vehicle and brief you on safety during the tour.
Seating arrangements: There are double and single seats available. Please let us know if you require a single seat. We will try to seat family and bubbles close together, although you may be on a single seat in order to accommodate your group. The seats are numbered and we will allocate you your own seat for the duration of the tour. We will allocate seat numbers on the day.
Hygiene: Enhanced cleaning is in place and the tour vehicle is cleaned before each trip. All guests over 11 years of age must wear a face covering (unless medically exempt) whilst on the vehicle or inside the buildings. Hand gel is available to use on entry and exit from the vehicle. Guests are asked to remain in their seats at all times while the vehicle is moving.
Social distancing: Unless in a bubble please consider other guests and remain 1 metre+ apart.

Details on visiting Spurn Lighthouse can be found on our visiting Spurn webpage. https://www.ywt.org.uk/spurn-discovery-centre/spurn-safari
Know before you go
Mobility
There is a set of steps on board to help access the unimog, so anyone who is able to use 'normal stairs' will be able to access the Unimog to go on the Safari.
What to bring
We have put a variety of measures in place to ensure you have a safe and enjoyable visit to Spurn National Nature Reserve and the Spurn Discovery Centre. Please bring a face covering. All guests over 11 years of age must wear a face covering (unless medically exempt) whilst on the vehicle or in the buildings.
Wrap up warm! Dress for the weather and wear sturdy footwear.
Parking information
£5 parking charge applies. FREE parking for Wildlife Trust members who display their up-to-date membership card on their car dashboard.