Soon to be just the stuff of fairytales...
In spring, calm, quiet evenings are interrupted by the croaking call of male frogs romancing females. Love is in the air, or actually, in the water! Soon, garden ponds across the county erupt with masses of frogspawn as each female lays up to 2,000 eggs in a season.
Under flower pots, in garden ponds and hiding deep within long grass the common frog is the most abundant of our seven amphibian species.
But our amphibian populations are struggling and even our common species face greater threats than ever before.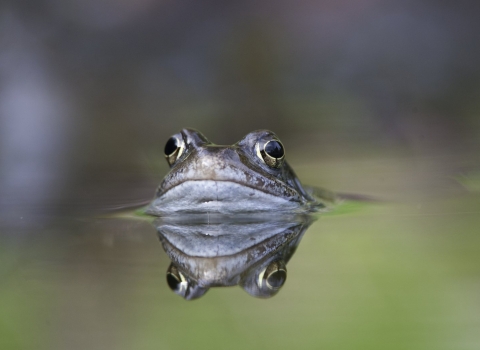 We're helping frogs all across Yorkshire
In the Yorkshire Wolds, we have restored historic dew ponds with the help of landowners. Dew ponds are precious oases for the common frog and other amphibians to breed, hunt and thrive in. These once lost ponds are now sparkling across the Wolds, and communities are rediscovering this ancient connection with their landscapes, filled with insects and plant cover that are vital for amphibians.
Across Yorkshire we are restoring lost ponds, lakes and wetland meadows; including creating a network of ponds specially designed for great crested newts which will also be home to common frogs and much more wildlife.
But their future is far from certain
The common frog is becoming ever more uncommon, with declines in the number of sightings recorded across gardens in recent years.
Since the 1970s our amphibians have faced greater and greater challenges. Ponds in gardens and across our countryside have disappeared meaning breeding sites have become few and far between. Urbanisation has also disrupted key migration routes making it harder for the remaining animals to find each other. Against this harsh backdrop, new diseases are pushing many species to the brink of extinction.
The fast living Toad from Wind in the Willows may soon become fiction as its numbers have declined by a shocking 68% in the last 30 years.
We can only continue to help Yorkshire's wildlife recover with public support. Donations to the Wildlife Recovery Fund will restore habitat for amphibians while we make up for lost time in 2020.
You can make a difference
Amphibians are known to travel many kilometres to mate so they need safe passage through towns and countryside to reach well connected and numerous water bodies for successful breeding.
A Yorkshire landscape dotted with lakes, ponds, rivers and streams should mean a fighting chance for our threatened amphibian species. Connecting this network of wet habitats with insect rich pastures, woodlands and gardens will provide food as well.
A pond is one of the best things to add to a garden to help wildlife. Leaving long grass, log piles and damp dark corners provides amphibians with safe places to rest during hot summer days before the night time hunting begins.