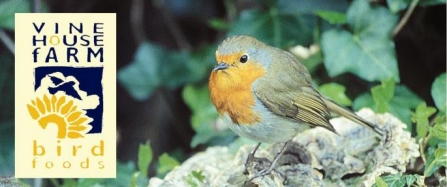 Vine House Farm Bird Foods donates 4% of all sales to the Wildlife Trusts, a partnership which has seen over £1.25 million raised for the UK's wildlife!
Vine House Farm Bird Foods are proud to supply customers with high-quality bird food direct from their conservation award-winning farm, with 5% of all takings going directly to the Wildlife Trusts. Click here to find out more, and look at the infographic below which illustrates the partnership.
Vine House Farm Bird Foods has been working with The Wildlife Trusts for over a decade, helping to protect and restore areas for nature and inspire people to experience wildlife first-hand. To date, Vine House Farm's donations to the Wildlife Trusts have totalled well over £1 million.
If you don't already, please consider buying your bird food from Vine House Farm - by doing so you can enjoy seeing your garden visitors safe in the knowledge that you're supporting wildlife across the whole of Yorkshire. Don't forget, you can buy Vine House Farm bird food direct from Potteric Carr Nature Reserve, Doncaster.
 
Vine House Farm is a wonderful example of how farmland can be managed to encourage wildlife as a central part of a successful and productive farm business

Chief Executive of The Wildlife Trusts