Upskilling, engaging and empowering young people
Launched in 2016, Tomorrow's Natural Leaders (TNL) is a five year project led by Yorkshire Wildlife Trust which will train 96 young leaders, upskilling and empowering them to inspire their peers and communities to take action on local environmental projects and campaigns across Yorkshire.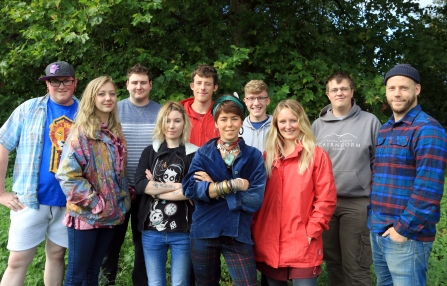 Each year we recruit 24 trainees aged 16 to 24 to join an exciting 12 month placement developing their skills and experience within the conservation sector. We aim to:
Upskill and empower young people in conservation and leadership skills to find employment in the green economy
Connect young people with nature and develop green ambassadors
Inspire local communities to value and take action for wildlife
Achieve an improvement in the built and natural environment
We are actively looking to engage young people and community groups to join us as participants or partners to help us inspire friends, relatives and neighbours to improve their local green space:
Are you part of a group or have a local green space you want to protect? Please get in touch to find out how we can help! Call 01904 659570 or email info@ywt.org.uk
Are you looking to grow your career in conservation? Are you 16 to 24 years old? Would you like to be part of a major new programme to get young people active for wildlife and the environment? Find out more below.
What's involved?

As a TNL you'll take up a year-long placement with Yorkshire Wildlife Trust, working four days a week, normally between Monday and Friday 9 to 5, with the possibility of evening and weekends if needed.

The first six months involve working alongside Trust staff gaining skills and experience across the Trust's centres, reserves and projects. The final six months are spent developing and delivering your own self-led environmental projects or campaigns.

Placements are supported with a £250 monthly bursary and a training budget to allow you to learn the skills you need for your placement and future employment.
What could I be doing?

Activities include reserves management, habitat restoration, biodiversity monitoring, events management, campaigning, outreach and education.

Becoming a TNL is a once in a lifetime opportunity for young adults who are looking for practical on-the-job training and are motivated to improve local green spaces for people and wildlife. You'll develop portfolios ending in a self-led project to inspire young people to value and take action for wildlife and local communities across Yorkshire.
When can I apply?

The main recruitment drive takes place over the summer months in preparation for a September start but earlier/later starts will be considered for the right candidate. Hence applications may be accepted throughout the year for the right candidates who are ready to take on the challenge of becoming Yorkshire Wildlife Trust future conservationists.
How to apply

If you feel you fit the bill please download and complete the application form below and send to Joe Wyatt (South & West Yorkshire) or Paul Thompson (North & East Yorkshire).

We are also happy to accept applications in alternative formats such as videos or voice recordings that answer these key questions:

Your name and contact details
Which location/s are you applying for?
What are you doing now?
Current qualification or training
Experience
Hobbies and interest
Why do you want to be one of Tomorrow's Natural Leaders?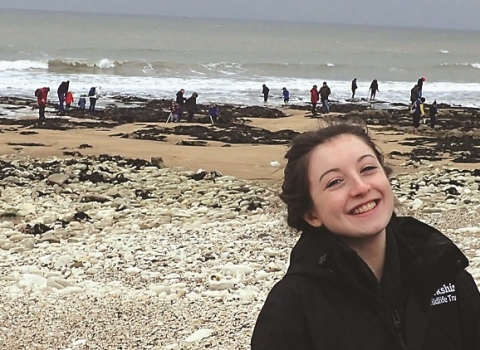 Georgia's TNL journey
"I've always had an interest in all things marine and dreamed of a career in the research and conservation of cetaceans (marine mammals such as whales and dolphins) but I struggled to learn in an academic environment.
"This led to severe self-doubt that began to hinder me and my desire to succeed. From my first meeting with Yorkshire Wildlife Trust I felt empowered. I was surrounded by like-minded people who believed in my ability and pushed me to be my best.
"...the TNL experience has been nothing short of amazing. Not only have I had the chance to use and expand my marine knowledge, I have also been able to try and experience new things I'd never have considered before!"